REAL GOLF 2011 HD
Real Golf 2011 HD is one of the most ambitious and one of the very best. I should, however, point out that the emphasis in Real Golf 2011 HD is on 'golf' and not 'game'.  If you're expecting multiplayer action or even scoring in tournaments against virtual computer players then you're going to be disappointed. This is all about the golfing experience – it's you against the course and conditions.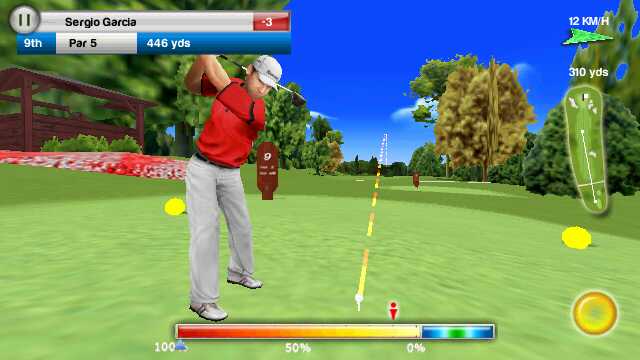 Yes, there's a 'Leaderboard' high score table – showing the lowest rounds across the world for each of the eight courses supplied – can you come in under par and compete with the best players? – which is good to have, but the in-game experience is pretty solitary – there aren't even any spectators dotted around the course to cheer you on.
Real Golf 2011 HD has two basic game modes: Instant, where you get assigned five random holes from the various courses on offer, and Tournament – the main event – where you try to go round in as few shots as possible (naturally).
The set up screens are pretty and full animated. Club head highlights glint, the backdrop pans smoothly, and so on.
In this game, as on consoles like the Wii, each hole is accurately modelled after the features on the real course. So gradients, irregular object boundaries, protrusions, lakes with vertical banks, shrubs and trees are all here, all modelled in the course data and rendered in real time. Yes, real time. There's enough graphical power on these modern phones that all of the above can be rendered from the underlying mathematical databases in real time, even in the midst of a hole preview/fly-by, or as part of an arty camera move, or as part of 'following' the ball that's just been hit as it careers towards the hole. And all without any stutters or freezes, it's just incredibly smooth and impressive.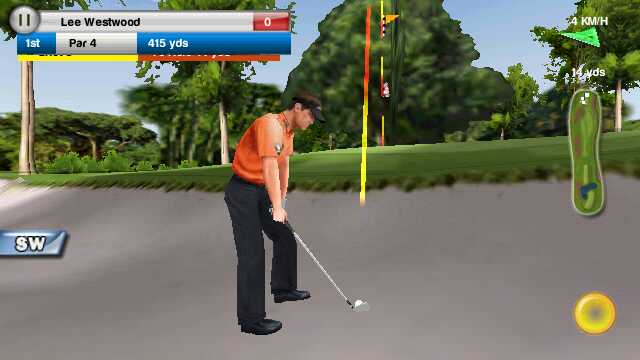 The modelling includes your player too, with decent representation of some of the world's top players, and animation of their swings, twitches and basic emotions. So, again, you get a TV-style view of the player after a hole has gone well – or badly. Additional subtleties like lens flare are applied correctly when the camera's aim strays near the sun, and shadows of trees are fairly realistically calculated.
In total, it's a complete and interesting game you won't want to miss.
Download it HERE